We sincerely hope that your company will consider participating in the 20th World Congress of Soil Science (20WCSS). For your convenience, we have a link to the sponsor application form below.

Download the application form from the website and send it to the Secretariat by fax (+82-2-566-6087) or e-mail ([email protected]).

Make plans now to exhibit in Jeju!
General Information
Place
Lobby(3F), ICC JEJU, Korea
Booth Space
3m (W) x 2m (D) x 2.5m (H), Approx.50 booths to be installed.
Booth Location
Booth location will be assigned in the order of sponsorship level and payment.
(However, it could be subject to change by the Organizing Committee.)
Exhibition Schedule
Substance
Date
Time
Booth Set-up
June 7(Sat), 2014
09:00 ~ 20:00
Move-in
June 8(Sun), 2014
12:00 ~ 18:00
Exhibition Period
June 9(Mon), 2014
08:00 ~ 16:30
June 10(Tue), 2014
08:00 ~ 18:30
June 12(Thu), 2014
08:00 ~ 18:30
June 13(Fri), 2014
08:00 ~ 19:00
Booth Dismantling
June 13(Fir), 2014
19:00 ~ 22:00
* The exhibition will close on June 11(Wed) for the technical tours.
Benefits
All Exhibitors get a certain number of badges as shown below depending on the sponsorship level.
No.
Type of Badge
Rates
What we offer
1
Exhibitor Badge
Free
Quantity: 2ea/company
"EXHIBITOR" written on badge
*Restricted from entering session rooms
* Lunch and Gala dinner not included
2
Registration Package
Free
Quantity: 2ea/booth
"Name, Affiliation, Country" written on badge

*Included a name badge (to session rooms), a ticket for lunch each day and

a congress program book, but not Include congress bag and flash memory containing abstracts

3
Additional Registration Package
$250
Same as Registration Package
Shipping
MIRIM E & F CORP. has been appointed by the Organizers as the official freight forwarder for the exhibition. It is highly recommended you use the official freight forwarder so that the secretariat can track and confirm shipments accurately.In the event you decide not to use our official freight forwarder, the 20WCSS Secretariat shall not be responsible for any losses, damage, delays or problems arising (i.e. invoice errors, import duties, customs clearance, etc.) from the importation of your equipment, promo materials, sample products, etc.
Additional Supplies
The official booth stand contractor is "Korea E & I". If exhibitors need additional equipment such as furniture, AV, lighting, please contact the Korea E & I as below.
No.
Category
Deadline
Note
Receiver
Form1
Company name fascia for shell scheme booth
May 23(Fri)
Mandatory
Korea E & I
Form2
Electricity Supply
Optional
Korea E & I
Form3
LAN for internet
Optional
Korea E & I
Form4
Furniture Rental
Optional
Korea E & I
20WCSS Official Booth Stand Contractor

Korea E & I (Mr. Jae-Ho KIM)
Phone: +82-2-563-8669/8670
Fax: +82-2-563-8772
E-mail:

[email protected]

,

[email protected]
Exhibition Package
Section
Contents
Unit Price
Shell Standard Booth
3m (W) x 2m (D) x 2.5m (H)
Fascia board with company name and booth number
1 information counter and 1 folding chair
1kw electric power, 1 socket Basic lighting
USD 3,000
Space Only
3m (W) x 2m (D) x 2.5m (H)
Exhibitors will be provided a 3m * 2m space only.
USD 2,700
Standard Shell Booth (example)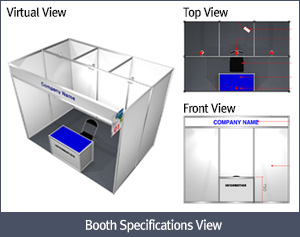 Facilities (tentative)

Fascia board (exhibitor's name and stand number)
1 fluorescent light and 3 spotlights
1 information desk and 1 chair
Power supply of 1 KW
Side & rear walls
Carpet (pytex)
1 socket
Layout