Access to ICC Jeju/Hotels from Airport
Airport map
By Limousine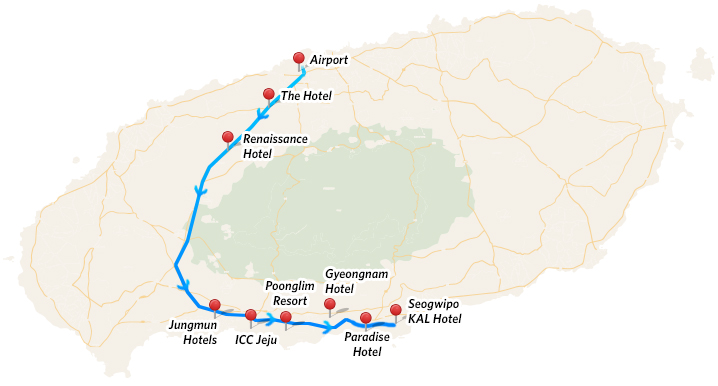 Bus Name
To Seogwipo (No. 600)
Operation Hours
06:20 ~ 22:00 (Interval 16~18 minutes)
Fare
Airport to Jungmun: KRW 4,500 (=USD 4)
Airport to Seogwipo: KRW 5,500 (=USD 5)
* Korean currency can be taken only.
Bus Stop
Airport → The Hotel → Renaissance Hotel → Yeomiji Entrance → Jungmun Hotels

(Hyatt Hotel → Silla Hotel → The Suites Hotel → Hana Hotel → Lotte Hotel → Corea Condo)

→ Korea National Tourism Organization → SEAES hotel & resort → ICC Jeju (Venue) → Daepohang Port → Yakcheonsa Temple → Gangjeong Village → Poonglim Resort → World Cup Stadium → Gyeongnam Hotel → Seogwipohang Port → Paradise Hotel → Seogwipo KAL Hotel
By Taxi
To go to the ICC Jeju / Conference Hotels, you may take a taxi from the long-distance stop.
Availability
Taxis run all day until 40-45 minutes after the arrival of the last airplane of the evening
Fare
KRW 30,000 (=USD 30)
* Korean currency can be taken only.
By Car Rentals
There is a car rental company in front of the arrivals hall in the Jeju domestic terminal for your convenience.
Access to Jeju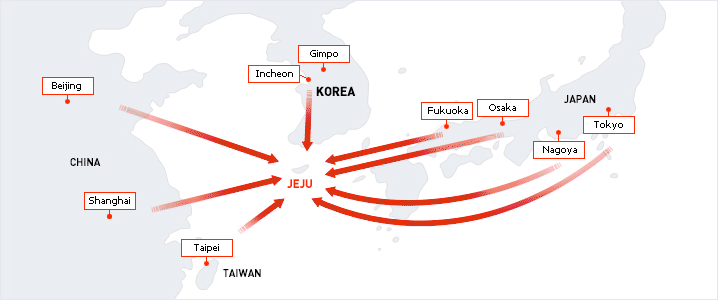 There are four ways to fly to Jeju Island:
Direct international flight &International flights to major Asian hub airports with direct flights to Jeju Island

The following is a list of airports with direct flights to Jeju. Routes may change due to circumstances of the airline.
Regularly Scheduled Flights
Japan: Tokyo (Narita), Osaka (Kansai), Nagoya, Fukuoka
China: Beijing, Shanghai (Pudong)
Non-scheduled Flights
China: Hangzhou, Shenyang, Changchun
Taiwan: Taipei

Transfer from Incheon International Airport (ICN), the gateway to the Republic of Korea

There are many international flights from all over the world to ICN. From Incheon International Airport, there are a few flights to Jeju Island with Korean Air and Asiana Airlines, with a flight time of approximately one hour. For flight schedules, please check the airline websites.
You can also move to Gimpo International Airport from Incheon International Airport easily. On arrival at Incheon International Airport, take an airport limousine bus to Gimpo Airport. It takes about 30 minutes and the fare is KRW 6,000(USD 5). The airport limousine bus runs everyday from 05:00 to 21:30 at 5 to 10 minute intervals.

Transfer through Incheon International Airport, bus transfer to Gimpo Airport (GMP - the second airport of Seoul) and then to Jeju Island. Please make sure to arrange your travel until Jeju Island. The IATA code of Jeju International Airport is CJU.

There are 50 to 70 flights everyday from Gimpo Airport to Jeju with Korean Air, Asiana Airlines, Jeju Air and Hansung Airlines and the flight time is approximately 50 minutes. For flight schedules, please check the airline websites.
Travel from Incheon to Gimpo Airport takes about 30 minutes. However you should plan 3 hours between your arrival time at Incheon. International Airport and your departure time at Gimpo International Airport to allow for check in. Therefore if you arrive at Incheon International Airport after 17:30, you may not be able to fly on the same day to Jeju Island and you should stay overnight in one of the hotels near to Gimpo airport.
Airline Information
Please check airline websites for the latest information: